— On-demand training
How Mindfulness Can Help You Improve Your Sex Life
1.5 CE HOURS
Mindfulness, a significant teaching in the Buddhist tradition, is an effective technique to reduce
worry and rumination by increasing self-awareness, cultivating self-compassion, and practicing a
state of non-judgment (Kabat-Zinn, 1994). Clinical studies have shown the emotional and
physical benefits of mindfulness in reducing stress, anxiety, and depression (Strauss, Cavanagh,
Oliver, & Pettman, 2014). Additionally, studies show how mindfulness helps to treat sexual
difficulties, decrease sex related stress, reduce sexual pain, and increase sexual pleasure (Brotto,
2013). With practice, mindfulness can become an effective strategy to help with emotional
regulation (Ortner et al., 2007), promote relationship satisfaction (Barnes et al., 2007), as well as
significantly improve sexual functioning, including desire, orgasm, and arousal (Brotto et al., 2008). Holzel et al (2011) also found how the practice of mindfulness increased body awareness, and present moment sensations that lead to improved sexual arousal. However, the use of mindful sex or research among Latin@s is limited. This workshop addresses this gap by providing an 1) overview of the research on mindful sex, 2) highlighting the benefits and contraindications of incorporating mindfulness with sex therapy 3) providing a mindfulness
demonstration, 4) focusing on cultural, clinical and digital mindfulness resources, and 5) best
practices for incorporating culturally based mindful sex approaches into your daily life and
practice. As we continue to be bombarded with busy schedules, multiple obligations, and high
levels of stress, it is important to learn how mindfulness techniques can help us manage stress in
healthy ways, and enhance our sexual lives and relationships. This presentation will be useful for
anyone who is curious about mindful sex approaches, looking for practical and effective
strategies to increase sexual health awareness, yearning to cultivate sex positive attitudes in their
personal lives, and to connect others with similar interests.
*This on-demand content was originally presented live in 2021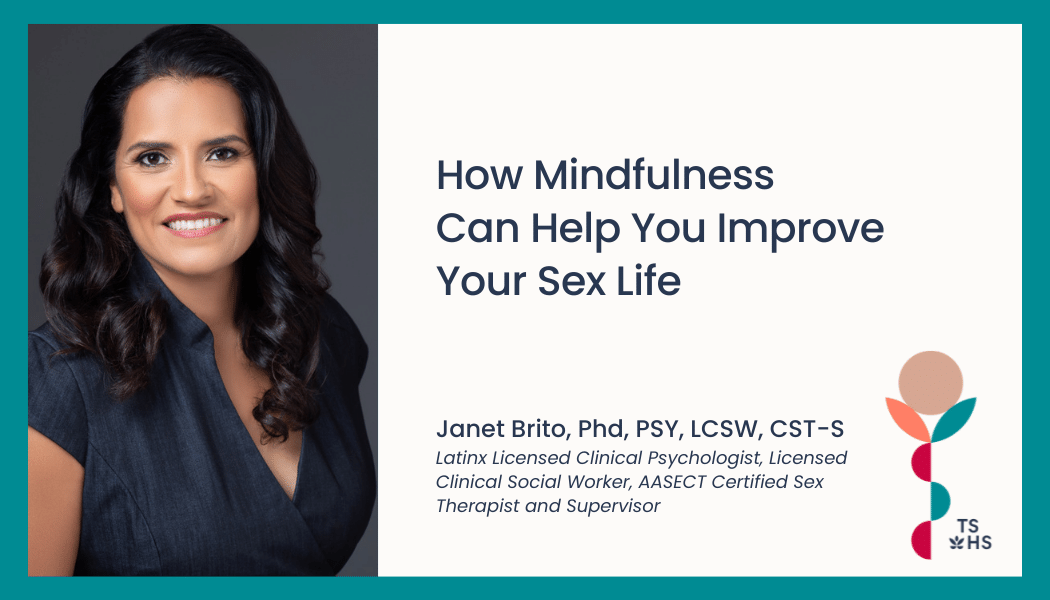 What You'll Learn in this Course
Review one mindful sex research study.
List 2 mindful resources to use in your sex therapy practice.
What Course Requirements Will I Meet?

This course may count toward fulfilling Core Knowledge Area (CKA-M)

Pleasure enhancement skills
Especially relevant to clinical practice. Super helpful!
Molly W.

Licensed Clinical Psychologist
Dr. Brito is an excellent presenter and always finds a way to incorporate diversity which is appreciated. Content was excellent and the teaching style was warm and accepting, allowing various levels of expertise to learn the material that was presented in a discernible manner.
Lori L.

Licensed Clinical Psychologist
The information that was shared is very useful and I am looking forward to integrating mindful sex priniciples with my patients.
Yadira C.

Licensed Clinical Social Worker
Janet Brito, Phd, PSY, LCSW, CST-S
Latinx Licensed Clinical Psychologist, Licensed Clinical Social Worker, AASECT Certified Sex Therapist and Supervisor
Dr. Janet Brito is an AASECT-certified sex therapist & supervisor who also has a license in clinical psychology and social work.
Don't hesitate
Are you ready to take this course?
Janet Brito, PhD, PSY, LCSW, CST-S

Introduction to Sexual Health: Socio-Cultural-Familial Factors in Relation

to Sexual Values and Behaviors

Theory and Methods of Sex-Related Psychotherapy and Counseling
Dr. Janet Brito is an AASECT-certified sex therapist & supervisor who also has a license in clinical psychology and social work. She is a graduate of Pacifica Graduate Institute and completed her postdoctoral fellowship from the University of Minnesota Medical School, one of only a few university programs in the world dedicated to sexuality training. Currently, she's based in Honolulu, Hawaii and is the founder of the Hawaii Center for Sexual and Relationship Health, a group practice that specializes in the areas of relationship and sex therapy, out of control sexual behavior, and providing an affirming space for gender and sexually diverse individuals.

In 2021, Dr. Brito started The Sexual Health School, an online training program for pre-licensed, licensed therapists, educators, graduate students, and health care professionals who are curious to learn more about sexual health. Dr. Brito has been featured on many outlets, including The Oprah Magazine, The Huffington Post, Playboy, Healthline, Women's Health Magazine,Thrive Global, and Bustle. Her dissertation A phenomenological analysis on infertility in Mexican women living in the United States was published in the Revista Interamericana de Psicologia/Interamerican Journal of Psychology.
Created with