— On-demand training
Out of Control Sexual Behaviors & Techniques to Treat Out of Control Sexual Behaviors
1.5 CE HOURS
Technology created a new facet of sexual expression. Cybersex, or online sexual activities for the purpose of sexual gratification, alters the intimacy landscape, influencing how people express themselves and define their preferences. This course explores not only the emotional impact but also the function of cybersex, including when it connects with problem behaviors, such as out of control sexual behaviors or other potentially hindering or harmful patterns.

During this course, participants will assess internet behavior that has the potential to become problematic, particularly overconsumption of porn use or the participation of high risk sexual behaviors. Participants will examine clinical interventions on how to manage out of control sexual behaviors. Special attention will be paid to how cybersex activities, particularly when they become excessive, can alter relationships and overall quality of life.
*This on-demand content was originally presented live in 2021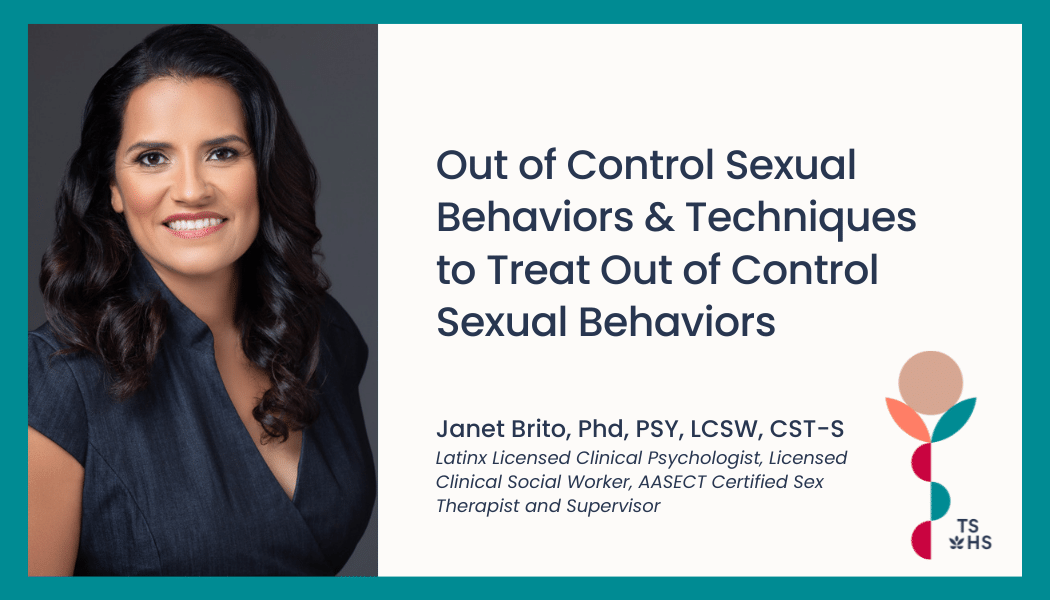 What You'll Learn in this Course
Identify and define out of control sexual behaviors.
Describe the 6 principles of sexual health.
Describe common interventions utilized for the treatment of out of control sexual bevaiors (OCSB).
Develop skills for evaluating clients with OCSB, and understand which DSM-5 diagnosis to apply.
What Course Requirements Will I Meet?

This course may count toward fulfilling Core Knowledge Area (CKA-K)

Cyber sexuality and social media.
Such an interesting topic and helpful for clinical practice.
Yadira C.

Licensed Clinical Social Worker
Great topic and very informative. Dr. Brito did an awesome job, with particular strengths in discussing ethical porn.
Alejandra L.
Licensed Social Work Associate
Really good lecture with a lot of case examples.
Nakia R.

Licensed Professional Counselor
Janet Brito, PhD, PSY, LCSW, CST-S
Latinx Licensed Clinical Psychologist, Licensed Clinical Social Worker, AASECT Certified Sex Therapist and Supervisor
Dr. Janet Brito is an AASECT-certified sex therapist & supervisor who also has a license in clinical psychology and social work.
Don't hesitate
Are you ready to take this course?
Janet Brito, PhD, PSY, LCSW, CST-S

Introduction to Sexual Health: Socio-Cultural-Familial Factors in Relation

to Sexual Values and Behaviors

Theory and Methods of Sex-Related Psychotherapy and Counseling
Dr. Janet Brito is an AASECT-certified sex therapist & supervisor who also has a license in clinical psychology and social work. She is a graduate of Pacifica Graduate Institute and completed her postdoctoral fellowship from the University of Minnesota Medical School, one of only a few university programs in the world dedicated to sexuality training. Currently, she's based in Honolulu, Hawaii and is the founder of the Hawaii Center for Sexual and Relationship Health, a group practice that specializes in the areas of relationship and sex therapy, out of control sexual behavior, and providing an affirming space for gender and sexually diverse individuals.

In 2021, Dr. Brito started The Sexual Health School, an online training program for pre-licensed, licensed therapists, educators, graduate students, and health care professionals who are curious to learn more about sexual health. Dr. Brito has been featured on many outlets, including The Oprah Magazine, The Huffington Post, Playboy, Healthline, Women's Health Magazine,Thrive Global, and Bustle. Her dissertation A phenomenological analysis on infertility in Mexican women living in the United States was published in the Revista Interamericana de Psicologia/Interamerican Journal of Psychology.
Created with