— On-demand training
Professional Communication and Personal Reflection Skills
1.5 CE HOURS
Communication is a fundamental skill for all health professionals. Facilitating critical discussions on topics that may be sensitive in nature introduces unique challenges. This course will examine key questions in this arena, including how to deliver effective communication. During this course, participants will focus on issues surrounding professional communication when discussing sexuality and sexual health. Specific attention will be paid to various forms of communication, including verbal, and non-verbal and ineffective communication patterns that may hinder the therapeutic relationship.
*This on-demand content was originally presented live in 2021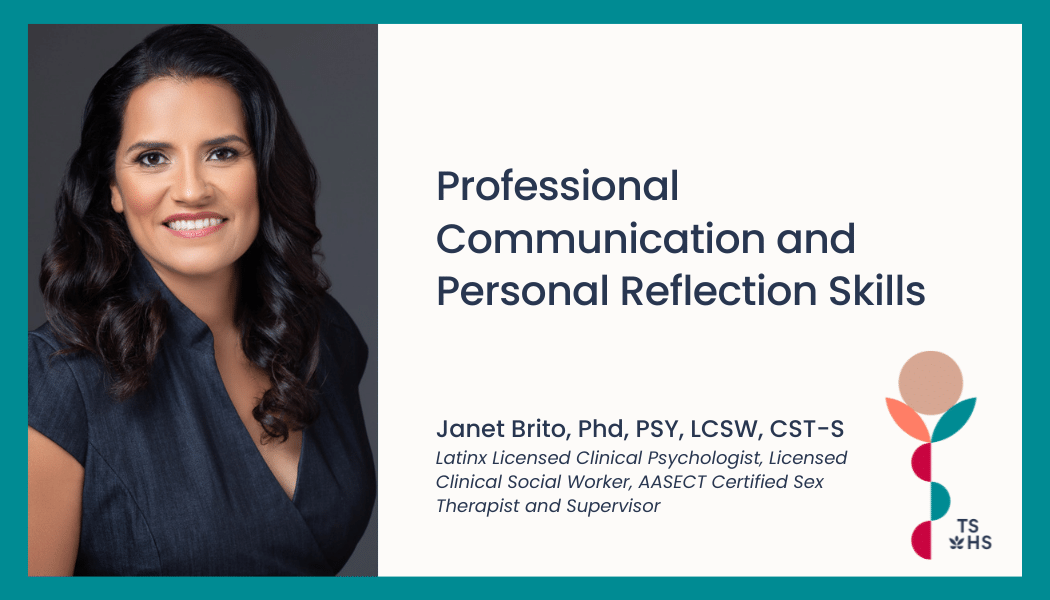 What You'll Learn in this Course
Identify 3 effective communication patterns for positive clinical interactions.
Identify 3 skills to promote personal reflection.
Compare modes of communication and their impact on the therapeutic relationship.
What Course Requirements Will I Meet?

This course may count toward fulfilling Core Knowledge Area (CKA-O)

Professional communication and personal reflection skills.
It was really useful to learn more about personal reflection and how I can use this skill outside of session.
Krista C.
Licensed Mental Health Counselor
Excellent content. I learned a lot from the presentation and appreciated the opportunity to do so. Dr. Brito is always a favorite to learn from with her excellent mix of knowledge, compassion, and vulnerability.
Lori L.

Licensed Clinical Psychologist
Appreciated the topic and look forward to incorporating these ideas into my personal and professional life.
Yadira C.

Licensed Clinical Social Worker
Janet Brito, PhD, PSY, LCSW, CST-S
Latinx Licensed Clinical Psychologist, Licensed Clinical Social Worker, AASECT Certified Sex Therapist and Supervisor
Dr. Janet Brito is an AASECT-certified sex therapist & supervisor who also has a license in clinical psychology and social work.
Don't hesitate
Are you ready to take this course?
Janet Brito, PhD, PSY, LCSW, CST-S

Introduction to Sexual Health: Socio-Cultural-Familial Factors in Relation

to Sexual Values and Behaviors

Theory and Methods of Sex-Related Psychotherapy and Counseling
Dr. Janet Brito is an AASECT-certified sex therapist & supervisor who also has a license in clinical psychology and social work. She is a graduate of Pacifica Graduate Institute and completed her postdoctoral fellowship from the University of Minnesota Medical School, one of only a few university programs in the world dedicated to sexuality training. Currently, she's based in Honolulu, Hawaii and is the founder of the Hawaii Center for Sexual and Relationship Health, a group practice that specializes in the areas of relationship and sex therapy, out of control sexual behavior, and providing an affirming space for gender and sexually diverse individuals.

In 2021, Dr. Brito started The Sexual Health School, an online training program for pre-licensed, licensed therapists, educators, graduate students, and health care professionals who are curious to learn more about sexual health. Dr. Brito has been featured on many outlets, including The Oprah Magazine, The Huffington Post, Playboy, Healthline, Women's Health Magazine,Thrive Global, and Bustle. Her dissertation A phenomenological analysis on infertility in Mexican women living in the United States was published in the Revista Interamericana de Psicologia/Interamerican Journal of Psychology.
Created with