— On-demand training
Sexual Response Models and Sensate Focus
1.5 CE HOURS
This course is intended to provide training to clinical professionals who work with a range of sexual dysfunctions. It will focus on explaining the various response models. In addition, the course will provide education on Sensate Focus exercises when addressing sexual problems.
*This on-demand content was originally presented live in 2021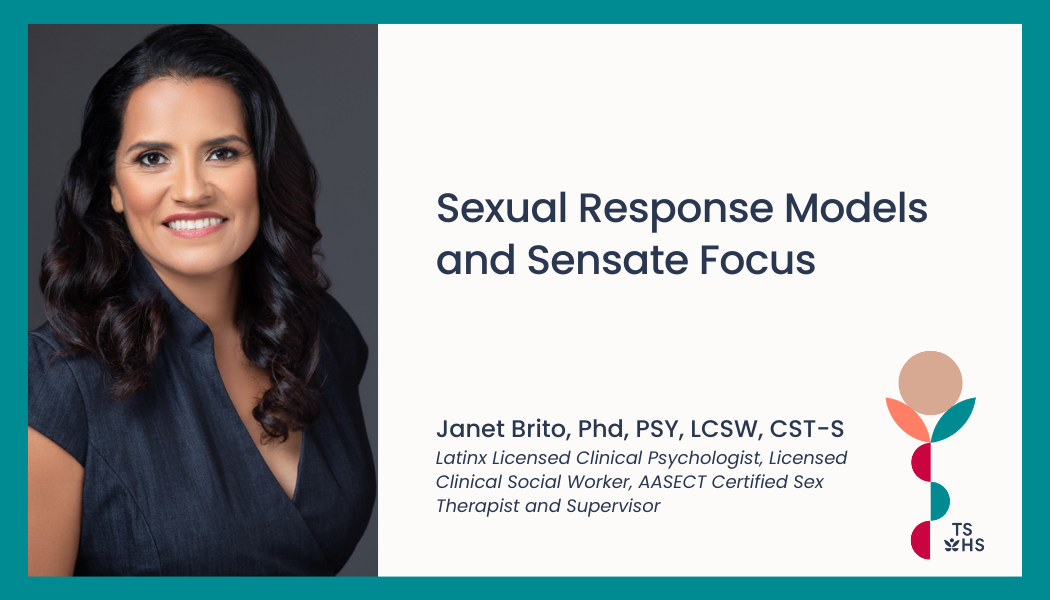 What You'll Learn in this Course
Explain the Masters and Johnson sexual response model.
Explain the Loulan sexual response model.
Explain the Basson sexual response model.
How to apply Sensate Focus exercises when addressing sexual problems.
What Course Requirements Will I Meet?

This course may count toward fulfilling Core Knowledge Area (CKA-M)

Pleasure enhancement skills.
This was a good presentation! Dr. Brito's magnetic personality and enthusiasm for the subject matter made it easy to understand.
Lori L.

Licensed Clinical Psychologist
It was super interesting to learn about!
Tracii W.

Really enjoyed this presentation. Love Dr. Brito's passion on the subject matter.
Crystle P.

Licensed Clinical Psychologist
Janet Brito, PhD, PSY, LCSW, CST
Latinx Licensed Clinical Psychologist, Licensed Clinical Social Worker, AASECT Certified Sex Therapist and Supervisor
Dr. Janet Brito is an AASECT-certified sex therapist & supervisor who also has a license in clinical psychology and social work.
Don't hesitate
Are you ready to take this course?
Janet Brito, PhD, PSY, LCSW, CST-S

Introduction to Sexual Health: Socio-Cultural-Familial Factors in Relation

to Sexual Values and Behaviors

Theory and Methods of Sex-Related Psychotherapy and Counseling
Dr. Janet Brito is an AASECT-certified sex therapist & supervisor who also has a license in clinical psychology and social work. She is a graduate of Pacifica Graduate Institute and completed her postdoctoral fellowship from the University of Minnesota Medical School, one of only a few university programs in the world dedicated to sexuality training. Currently, she's based in Honolulu, Hawaii and is the founder of the Hawaii Center for Sexual and Relationship Health, a group practice that specializes in the areas of relationship and sex therapy, out of control sexual behavior, and providing an affirming space for gender and sexually diverse individuals.

In 2021, Dr. Brito started The Sexual Health School, an online training program for pre-licensed, licensed therapists, educators, graduate students, and health care professionals who are curious to learn more about sexual health. Dr. Brito has been featured on many outlets, including The Oprah Magazine, The Huffington Post, Playboy, Healthline, Women's Health Magazine,Thrive Global, and Bustle. Her dissertation A phenomenological analysis on infertility in Mexican women living in the United States was published in the Revista Interamericana de Psicologia/Interamerican Journal of Psychology.
Margo Vassar, MD, FACC, RYT-200
Margo Vassar, MD, FACC, RYT-200 is a clinical cardiologist at Queens Medical Center. She has called Hawaii home for the last 10 years having moved from her home of Baltimore and a life on the east coast. Interpersonal relationships have always been an interest since working as a Women's Peer Counselor in college and she has always enjoyed a wide variety of community outreach.
Renato Pérez, LCSW
Renato Pérez is a psychotherapist and clinical social worker independently licensed in the state of California. He is committed to guiding clients through a journey of self-improvement and self-discovery. He specializes in supporting clients through trauma, and mood disorders and is especially proud to be able to provide LGBTQ+ Affirmative therapeutic services.
Renato is committed to raising awareness of mental health education, particularly within the Queer Latinx community.

Renato is a native Spanish speaker who was born in Mexico in the small town of Jalostotitlan. When he migrated to the USA he grew up in northern California, where he experienced shortage of Spanish speaking mental health providers as his family attempted to utilize services. His experience sparked his passion for providing culturally and linguistically appropriate mental health services.

Renato received his Master of Social Work form the University of Southern California. He has been featured in Univision's national show "Despierta America" and other local shows such as "Primera Hora," "All Access Broadcasting" and "El Aviso" as a mental health advocate and expert. He has made contributions to an array of different podcast, including "Latinx Therapy" where he discussed the struggles of coming out in a machista home and "De Pueblo Catolico y Gay" a Spanish language podcast dedicated to the intersectionality of growing up gay and catholic. He has been nominated for the Social Hero Award in 2018 hosted by Pacific Oaks College.

Renato is a lover of animals and supporter of "Corazon de Vida" an organization dedicated to providing higher quality of life to children abandoned in Baja-California. Renato has a long clinical experience in mental health treatment that ranges from community mental health; working with individuals and families, to working for the Los Angeles Department of Mental health; where he was able to work with the most vulnerable members of our community. He has a long career working with trauma, chronic mental illness, mood disorders, as well as personality disorders, and severe psychosis.
Ali Mushtaq, PhD, MA
Addressing Social Justice Dichotomies within BDSM
Dr. Ali Mushtaq has his PhD in Sociology from University of California: San Francisco and Master' Degree in Social and Demographic analysis from University of California: Irvine. Dr. Mushtaq also has written several op-eds and scholarly articles that focus on race and sexuality. He is a lecturer at Chapman University and specializes in race and ethnicity, sexual identity, and embodiment studies. Most recently, he coauthored Womanist AIDS Activism in the United States: "It's Who We Are" (coming out in December 2021).