Become the Provider Everyone Loves, and that Colleagues Refer to

We provide AASECT and APA-approved human sexuality CE courses to help you get comfortable talking about sex so that you can help your clients move beyond shame and create a life they've always imagined.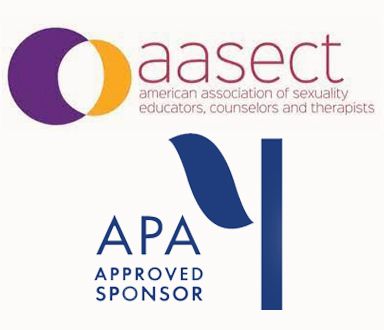 Cultivate skills to serve your community

You are welcome here

Are you Latinx or BIPOC and yearn to learn from expert-level instructors that look like you?

Do you want to get more comfortable talking about sex with your clients?
Are you eager to learn about your own sexuality so you can better understand your clients' experiences and needs?

Do you want to help your community by providing culturally aware sexual health related counseling?

Are you working towards AASECT certification?

Do you need CEs to renew your license and curious to learn skills to help your clients resolve their sexual health difficulties?

Are you a sexual wellness provider who is passionate about gaining high demand skills?


We know what it's like to attend trainings that do not have instructors that share your background, and not feeling safe to speak up.

We understand the desire to be inspired by role models you can relate to and learn new material in a more culturally aware way.

This is why at The Sexual Health School, 75% of our human sexuality CE courses are taught by Latinx and BIPOC expert-level instructors. We believe you deserve to thrive and have a meaningful training experience. Our aim is to provide you with sexual health education in a safe and inclusive learning environment so you are equipped to create spaces where sex is openly discussed, and your clients feel acknowledged and understood.

belong. contribute. thrive.

Join a Community
That Embraces and Respects Differences

Engagement



Train in your sexual topics of choice by ethnically diverse expert-level professionals.


Earn CE Credits
Get certified with our APA and AASECT-approved human sexuality CE courses.



Online Trainings



Learn at your own pace from the comfort of your home with our on-demand courses.


Strong Community
Transform the way you think, and creatively engage with your peers.


Recognition. Celebration. diversity.

Our Featured Courses

\Learnworlds\Codeneurons\Pages\ZoneRenderers\CourseCards
\Learnworlds\Codeneurons\Pages\ZoneRenderers\CourseCards
Ready to Learn?

TESTIMONIALS

Here's what our students say
"There was so much information to take in and digest. I appreciated that there weren't extra assignments outside the classroom so I could really absorb the content of the lectures and still focus on my private practice and other priorities. I enjoyed the flexibility attending The Sexual Health School online because I couldn't commit to a traditional in-person classroom setting. Dr. Brito is very encouraging and supportive throughout the entire learning process."
Crystle Prung, PhD
Licensed Clinical Psychologist

"The Sexual Health School allowed me to connect with others from numerous professional backgrounds who were all passionate about providing quality and inclusive sexual healthcare, therapy, and education. I strongly recommend TSHS for any care professional who is seeking that next level of knowledge to contribute to inclusive sexual health care, therapy and education. This has been one of the most outstanding further education opportunities I have ever taken part in and continue to use daily within my clinical practice.

Alysse Cruz, MD
Family Medicine Doctor
Health Partners

"I joined The Sexual Health School because I want to help normalize talking about sex, and sexual pleasure within the black, brown, and faith-based communities. Being a part of the The Sexual Health School helped me to understand that sex education is so much more than the physical aspect of performance, but our sexuality encompasses our emotional, physical, intellectual, and psychological issues as well. The most positive experience I had attending TSHS was getting to hear the testimonies and hearts of so many speakers."
Nakia L. Roberson, M.Ed, LPC, NCCCEO
Next Stage Counseling & Wellness, PLLC
Support Our Mission
The Sexual Health School's mission is to ensure that healthcare professionals from diverse backgrounds - and the clients they serve - experience an inclusive environment that is safe, welcoming, supportive, and free of judgment. Our goal is to train aspiring Latinx and BIPOC individuals to provide sexual health services and expand access to underrepresented areas.
Your contribution will fund scholarships for future Latinx and BIPOC sexual health professionals on their journey to gaining the skills they need to serve their communities.
~ Janet Brito, Phd, LCSW, PSY, CST-S
Founder of The Sexual Health School
Created with